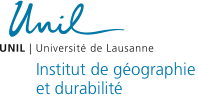 Institute of Geography and Sustainability of the University of Lausanne


Research projects
---
---
When ecology goes to town. Imaginaries, production and effectiveness of urban ecology in Switzerland.
---
In 2015, two chairs in urban ecology were created in Switzerland, one at the University of Applied Science Rapperswil and the other at the Swiss Federal Institute of Technology in Lausanne. They mark the institutionalization of a h itherto very minor field of research in this country compared to other national contexts. After long prioritizing the study of non-urban environments, the science of ecology is giving renewed attention to cities.
Under the banner of sustainable development, urban ecology is being called on to play a crucial role in urban management and planning, preservation or creation of ecosystems and reduction of urban nuisances (such as noise, heat islands , air pollution). In an increasingly urbanized global context, there is an urgent need for ecological research to engage with the urban ecosystem and to produce conceptual frameworks and empirical knowledge on the built environment dir ectly useful for the implementation of urban strategies. However, particularly in Switzerland, knowledge on urban ecosystem is still scarce. The vast majority of publications in the field of scientific ecology still focus on areas out of the city and supposedly the most preserved from human influence. Because of this "urban bias", the city would still appear to be a (relative) unknown in ecology.
This project seeks to interrogate the changing societal values and institutions that previously restrained, and now promote the production of urban ecological knowledge.
To understand the regimes of knowledge production on urban ecology in Switzerland, we propose three main points of entry and questions:
Entry 1 Natural scientists' imaginary: What is the city to natural scientists?
Entry 2 Knowledge production: What does the city do to ecology?
Entry 3 Influence on urban planning: What does ecology do to the city?
Following an approach inspired by Science and technology studies, data collection will be done via interviews with researchers and urban actors participant observation, in situ observations of researchers, as well as textual analysis o f various written sources.
The results of the project will lead to the publication of three articles in STS and society-nature relations journals, and a collective book on the history of urban ecology in Switzerland and its placement in perspective with regards to other epistemic cultures.
---