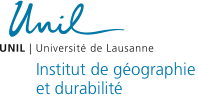 Institute of Geography and Sustainability of the University of Lausanne


Research projects
---
---
Acclimatization in the urban and territorial project: anticipating the freshness grid in a context of climate change. The case of the Rhone Valley project
Research fields
Urban studies

Keywords
Acclimatization
Resilience
Freshness grid
Environmental forms

Funding
Duration
April 2020 - December 2020
Website
Researchers
Delabarre Muriel (Principal Investigator) [web] [email]
Fallot Jean-Michel (Project co-applicant) [web] [email]
Reynard Emmanuel (Project co-applicant) [web] [email]
Tranda Pittion Michèle (---)
Vignal Bertrand (---)

---
This research project is devoted to the theme of acclimatization in the urban and territorial project in the perspective of producing a framework of freshness in a context of climate change. It focuses on a current theme: the third correction of the Rhone. The cantons of Vaud and Valais intend to take advantage of the opportunities offered by the major project of the 3rd correction of the Rhône (R3) to rethink the landscaping of the river banks and to have a global vision, a common thread, in this sense.

The project of the 3rd correction of the Rhone plans to redevelop the banks and their connections, along the entire length of the river from Gletsch to Lake Geneva. It offers the project owners the opportunity to make the largest public space in the whole canton of Valais and an intercantonal public space in the Chablais available to the population, by bringing quality, in a coherent and coordinated way. The Office Cantonal de la Construction du Rhône OCCR3, launched in 2019 an international competition in urban planning for the development of the Rhone (MEP procedure - Mandat d'Etudes Parallèles - bringing together several firms of landscape architects and urban planners and, among them, a consortium led by the Agence Base directed by Bertrand Vignal, lecturer at the FGSE, and composed of several design offices, including Topos Urbanisme (directed by Michèle Tranda-Pittion, lecturer at the FGSE) ; Emmanuel Reynard, Professor at the IGD and President of the association "Mémoires du Rhône", acted as an expert in this project. The Rhônatureparc project, proposed by the consortium led by the Base Agency, placed particular emphasis on the geographical relationships between the Rhone, the plain and the hillsides and valleys and on the possibility of using the project for the development of public spaces in connection with the Third Correction of the Rhone to anticipate the adaptation of the plain to the ongoing climate changes.
The project offers us the opportunity to deploy a new research-action project to think about the subject of acclimatization in a perspective of global warming. The change of paradigm for the development and management of the Rhone is notable: the two previous corrections were designed to be safe and economical; in addition to these aspects, the project selected for the next correction of the Rhone should be ecological, co-constructed and above all resilient.
Four thematic axes structure this project:
1 - Nature resources. Analysis and modelling of the natures present in situ (water, air, soil, vegetation and living) - qualitative and quantitative spatial analyses
2 - Analysis of the project process
3 - Landscape urbanism: morphological optimization of environmental forms
4 - Collaborative co-design and operating modes
Research collaborators:
Bertrand Vignal, co-director of Agence BASE - lecturer in project workshop at UNIL
Michèle Tranda-Pittion, topos urbanisme, lecturer in project workshop at UNIL
N.N. scientific collaborator
Partner of the research-action project: Agence BASE
---