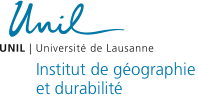 Institute of Geography and Sustainability of the University of Lausanne


Research projects
---
---
Regionalization and regional policies in the Swiss Alps: strategies and perspectives based upon the example of the canton of Valais.
Research fields
Urban matters

Keywords
Regional geography
Regional politics
Globalization
Alps
Wallis

Funding
Duration
August 2003 - August 2008
Website
Researchers
Michelet Jacques (Doctoral student)

---
The research evaluates the way a Swiss mountain canton (Valais) can overcome contemporary territorial challenges of regionalization, according to its particular historical and structural settings. Thematic context links the renewed global issues to the strategies of regional development. Globalization is first considered from its territorial effects on Europe and Switzerland. Those effects are resumed by Swiss geographers under the concept of "metropolisation" that affects development's factors. Polarization of both, social forces and production's capacities renews and reinforces socio-economic disparities. This happens not only at national scale between the centre and the periphery, but also within peripheral systems. Political answer to the renewed territorial issues impacts on public policies, particularly on those dealing with regional aspects. Nowadays, local political level tries to merge with the renewed scale of economical decision's capacity, as well as the renewed territorial practices of their citizen. This leads to a rising complexity of regional thematic, particularly for the concerned cantons. It is henceforth their duty to implement regional strategies according to the new regional policy. The synthesis of all those reflections allows setting up a vision of what could be the regional architecture and governance of the Valais in a near future. The approach is not only necessary at this time of changes, but also innovative. Indeed the last reflection of this kind in Valais is about thirty years old, as old as the ex-regional policy.
---
Documents
Régionalisation et politique régionale dans les Alpes Suisses: quelles stratégies et quel avenir - perspectives valaisannes
Thèse de Jacques Michelet
Download (PDF file; 82.86 MB)
---
Publications
| | | |
| --- | --- | --- |
| Michelet, J. (2008). Régionalisation & [et] politique régionale dans les Alpes suisses: quelles stratégies et quel avenir, perspectives valaisannes. PhD thesis, Université de Lausanne, Faculté des géosciences et de l'environnement. | Info | |