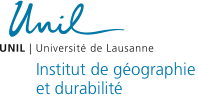 Institute of Geography and Sustainability of the University of Lausanne


Research projects
---
---
Assessing Jessour in South-East Tunisia
Research fields
Margins, environment, landscapes
Water management
Geoheritage and landscape

Keywords
Geoheritage
Landscape
Water management
Irrigation
Water balance

Funding
Duration
September 2016 >
Website
Researchers
Calianno Martin (---)
Fallot Jean-Michel (---) [web] [email]
Milano Marianne (---) [web] [email]
Reynard Emmanuel (---) [web] [email]

---
This research project is led in partnership with the "Laboratoire de Cartographie Géomorphologique des Milieux, des Environnements & des Dynamiques", Tunis University. It aims to assess jessour in south-east Tunisia. Jessour are traditional hydro-agricultural areas that aim to capture runoff from arid wadi hillslides to improve the water balance of agricultural parcels. It thus enables cultivating olive trees beyond their ecological limit. These works are both hydro-agricultural installation and hydraulic heritage. Nowadays, they undergo different stakes related to climatic and socio-economic changes, notably abandonment of landfarms.
This project is composed of two working packages :
- working package on heritage. Fieldwork in the Tataouine and Guermassa regions will be carried out in 2016 or 2017 to analyze the current state of these works (typology, inventory).
- Working package on hydrology. Meteorological and soil moisture measuring devices will be deployed in the same regions to quantify the water balance of the agricultural parcels with and without jessour. Although the agronomic value of the jessour is recognized, the added value on the water balance has never been quantified.
---
Project location
---
Publications
Info
Info

Calianno Martin,

Fallot Jean-Michel, Ben Fraj Tarek, Ben Ouezdou Hédi, Reynard Emmanuel, Milano Marianne, Abbassi Mohamed, Ghram Messedi Aziza et Adatte Thierry (2020).Benefits of Water-Harvesting Systems (Jessour) on Soil Water Retention in Southeast Tunisia.

Water

, 12(1):295
Info