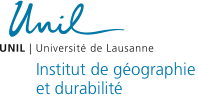 Institute of Geography and Sustainability of the University of Lausanne


Research projects
---
---
Cycling among young people in French-speaking Switzerland
Research fields
Urban matters

Keywords
Mobility
Bicycle
Young people

Funding
Federal Roads Office (ASTRA)
Duration
January 2020 - December 2020
Website
Researchers
Baehler Daniel (---) [web] [email]
Rérat Patrick (---) [email]
Schmassmann Aurélie (---) [web] [email]

---
Cycling among young people is an important issue in promoting sustainable mobility. However, the Microcensus Mobility and Transport shows a decrease in the proportion of children and young people cycling in Switzerland. This trend is problematic as learning and mobility experiences at these periods of life influence future behaviour.
A study was conducted in 2014 on this issue in Basel-Stadt. The aim of this project is to replicate this approach in a city in French-speaking Switzerland where the modal share of cycling among young people is significantly lower than in German-speaking Switzerland, not only for commuting to school but also for leisure activities.
The research proposed here aims to answer the following questions using a qualitative approach:

How much cycling does young people do?
What is the image of cycling among young people and how does it vary according to gender, age and type of education?
What are the barriers to higher levels of cycling? Do they relate to young people (no bicycles available, insufficient skills, lack of desire, etc.) or to the context in which they live (poor image among friends and family, attractiveness of other modes of transport, poor cycling infrastructure, school policies, etc.)?
---