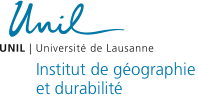 Institute of Geography and Sustainability of the University of Lausanne


Research projects
---
---
Closing the food-waste-farming cycle: Composting and urban agriculture in Cameroon and Switzerland
---
This research aims to analyse the barriers and opportunities for compost- based urban farming and gardening in four cities of Cameroon and Switzerland as to develop policy recommendations for localizing and closing the food-waste-farming cycle in different contexts for the climate change mitigation.
The promotion of composting for urban agriculture has great potential to mitigate global climate change without the need for multilateral cooperation: composting reduces the uncontrolled decomposition of organic wastes that contributes to green-house-gas emissions; compost use in agriculture helps sequester carbon from the atmosphere; and urban agriculture shortens food chains, reduces transportation needs and contributes to food security.
Using urban political ecology as its overarching analytical framework, the proposed interdisciplinary research considers actors, social practices and relationships, institutions and materialities along the entire food-waste-farming chain starting from food consumption and waste production, waste management and composting to compost use in urban farming, and it assesses compost-induced improvements of local soils.
Furthermore, the project seeks to engage with key stakeholders in both countries, including urban farmers, planners and policymakers, and to facilitate knowledge exchange across geographical contexts. Through comparative research and stakeholder workshops, the project aims to inform policy and urban planning in the research sites and beyond.
Apart from the academic dissemination of research findings through publications, the proposed project seeks to reach larger audiences through collaboration with local, national and social media, as well as locally elected policymakers through association with an international network of francophone mayors.
The members of the interdisciplinary team have extensive experience in the study of sustainable consumption, food wastes, waste management, urban planning and agricultural soils in various geographical contexts, including Cameroon and Switzerland.

---