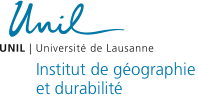 Institute of Geography and Sustainability of the University of Lausanne


Research projects
---
---
Does teleworking lead to sustainable mobility practices? Knowing and overcoming space-time rebound effects
Research fields
Urban matters

Keywords
Residential mobility
Daily mobility
Teleworking

Funding
FNS, Division 1
Duration
January 2021 - December 2024
Website
Researchers
Ravalet Emmanuel (Project co-coordinator) [email]
Rérat Patrick (Project co-coordinator) [email]

---
There is a wide political consensus on teleworking as a way to implement the transition towards sustainable mobility by decreasing the number of trips, congestion of infrastructures and energy consumption. But are things really obvious as far as the various forms of spatial mobility are concerned? In this research, we aim to develop a critical overview of the links between teleworking practices and residential and daily mobilities. We thus propose to assess the potential "space-time rebound effects" of teleworking. This project aims to answer three research questions:
(1) "Where do people work?" This question is not as obvious as it appears at first sight. Trends such as the increase in commuting times and distances, the potential of digitalisation as well as economic restructuring (e.g. the transition to a knowledge economy) and changes in the labour market (e.g. short-term contracts, part-time jobs) show that the place where people work is being redefined. Three main forms of teleworking can be identified: Teleworking at home (including second home), itinerant telework (e.g. on a train), and teleworking in third-places (dedicated, such as coworking spaces, or not, such as cafe?s). The diversity of teleworking is further reinforced by the variety of geographical contexts, social and private situations, professional environments, etc.
(2) "What are the effects of teleworking on everyday and residential mobility?" This raises the issue of a potential "space-time rebound effect". In other words, reducing the frequency of commuting trips could generate other trends (e.g. a higher tolerance for commuting, an increase in trips for other motives, a trend towards multiresidentiality, a decrease in residential mobility). More specifically, we will study the role teleworking plays in the choice of both residential and work places, the trips that are avoided and/or made possible by teleworking and the overall balance of greenhouse gas emissions of both teleworkers and non-teleworkers.

(3) "Why do people telework?" This question addresses the motivations, incentives and trade-offs that lead to teleworking as well as its temporality. We plan to analyze the practice of teleworking through a life course perspective as a way of structuring the different spheres that constitute the biography of an individual (e.g family, education, work, housing, etc.) and the key life events (e.g. starting a new job, starting a family, an event in the partner's career) that may lead to teleworking.

This project draws on the literature on mobilities studies and on the various forms of mobility at stake here (residential mobility, multiresidentiality, daily and temporary mobility). It is based on a mixed-method approach that combines the advantages of quantitative methods (e.g. measuring trends, comparing groups) and qualitative methods (e.g. understanding decision-processes). A first part will analyze the Mobility and Transport Microcensus and the Swiss Labour Force Survey. We then propose to organize a nation-wide representative survey (n=5,000) to assess mobility and teleworking practices on a weekly basis and the reasons for residential and workplace locations. Finally, 30 in-depth interviews will address location and mobility choices in detail through individual biographies and situations.

While the various forms of teleworking are on the rise, very little is known – notably in Switzerland – about their impacts on residential choice as well as everyday and leisure mobility. As it stands, the project will bring crucial and new elements to a better understanding of the potential of teleworking to regulate mobility practices.
---