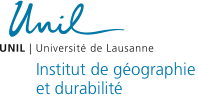 Institute of Geography and Sustainability of the University of Lausanne


Research projects
---
---
European Commons and Biodiversity
Research fields
Political ecologies

Keywords
Governance
Commons
Biodiversity

Funding
Duration
April 2019 - September 2023
Website
Researchers
Walters Gretchen (Supervision) [web] [email]

---
Recent advances in conservation policy, science and practice are starting to recognise territorial commons worldwide. However, in Europe, some countries recognise their commons, while others disregard or seek to abolish them. We are interested in understanding new roles for commons in Europe, in the context of sustainable development.

In France, we focus on the "Section de commune" and their role in stimulating community identify. You can read more here:

We are now exploring the potential contribution of commons to biodiversity conservation policy, through "Other Effective Area-based Conservation Measures (OECMs), recognised by the UN CBD, and now part of the post-2020 Global Biodiversity Framework, the EU and Swiss Confederation's 2030 Biodiversity strategies.

---