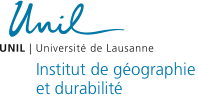 Institute of Geography and Sustainability of the University of Lausanne


Research projects
---
---
"Localising" Quinoa: Framing and Farming Quinoa in the Canton of Vaud.
Research fields
Political ecologies

Keywords
Agroecology
Quinoa; knowledge production
Peasant studies
Political agronomy
Discourse analysis
Switzerland

Funding
Duration
January 2019 - December 2019
Website
Researchers
Aeby Alexandre (Scientific collaborator)
Bétrisey Florence (Project co-applicant) [web] [email]
Boisvert Valérie (Project co-applicant) [email]

---
The objective of this project is to gather information, identify actors, start establishing databases and set up scientific and institutional cooperation to develop research on quinoa cultivation in the canton of Vaud. This will provide us missing empirical basis to develop a complete and trans-disciplinary research proposal about the discursive legitimation and political configuration that allows this new "helvetisation" of quinoa (political economy/political ecology), as well as the implication on local farmers' representations and organization (sociology/anthropology) and ecological impact of quinoa on agro-ecosystems (agroecology).
---