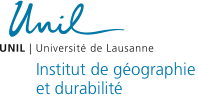 Institute of Geography and Sustainability of the University of Lausanne


Research projects
---
---
Secondary residences: practices of residents and strategies of destinations in Valais
Research fields
Cultures and natures of tourism

Keywords
Spatial development
Secondary homes ; territorial development ; Covid-19 ; tourist destinations ; mountains

Funding
Duration
Mai 2021 >
Website
Researchers
Clivaz Christophe (Project coordinator) [web] [email]
Gros-Balthazard Marjolaine (Project coordinator) [web] [email]
Kebir Leïla (Project coordinator) [web] [email]
Laurenti Eliana (Research Advisory)

---
As an integral part of the tourism and residential system, second homes directly question the future of Alpine territories, which are challenged by climate change. These second homes are at the heart of many tensions. Cold beds, rising land prices, financing of urban infrastructure, urban sprawl, low expected income, capture of wealth by a few, are all phenomena that crystallise tensions. The 2012 vote in Switzerland to limit the number of secondary residences per municipality (Clivaz, 2013; Schuler & Dessemontet, 2013) or the increase in the amount of tourist taxes in many Valaisan municipalities are examples of this.
Since March 2020, the Covid-19 crisis has served as a reminder that this form of poly-topic living (Stock, 2006) is at the heart of territorial development issues. While international tourists are becoming rare, secondary residents seem to play a crucial role for tourist destinations.
In this context, this project aims at questioning the advent of a turn towards a sustainable warming of cold beds, by taking the example of two Valaisan destinations. We wish to understand both the way in which Covid-19 has modified the tourist and living practices of secondary residents (time and period of occupation, activities practised, etc.) and the way in which destinations (re)think their strategies to maximise the occupation of these secondary residences or to increase their impact on the local economy.
---