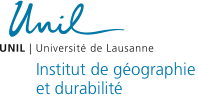 Institute of Geography and Sustainability of the University of Lausanne


Research projects
---
---
The place of the bicycle in urban planning in Black Africa. Violence and marginalization of a tool for sustainable urbanisation in Cameroon
Research fields
Urban matters

Keywords
Sustainable mobility
Bicycle
Low carbon mobility
Public space
Cameroon.

Funding
Federal commission for Scholarships for Foreign Students (FCS)
Duration
September 2021 - August 2022
Website
Researchers
Ndam Salifou (Principal Investigator)
Rérat Patrick (Supervision) [email]

---
Cycling is seen as an effective means of transition to low-carbon mobility. The use of bicycles by the population requires first and foremost the development of infrastructure and the establishment of a strategy for the effective cohabitation of way of moving.
Cycling is considered as an effective means of transitioning to low carbon mobility. This research aims to show that the study of the social representations of cycling in public spaces is a key to understanding the backwardness of some cities such as Yaoundé and Douala in terms of sustainable mobility when sustainable urbanisation is a matter of emergency. Big cities in Central Africa and home to about 46.8% of Cameroon's urban population confine bicycles and consider them a dangerous means of travel for its users and other road users. Then, cycling in the streets is a marginal means of travel and social downgrading.
Based on a qualitative and quantitative methodological approach, this research seeks to show how the cities of Yaoundé and Douala can boost the dynamics of sustainable mobility by becoming (again) favourable to this activity. It uses a comparative perspective which highlights Lausanne, the city with the lowest modal share of cycling among the main Swiss cities (Rérat et al., 2019), in order to examine the possibilities for joint and specific action to address their backwardness. This research is an undeniable added value to work on the utilitarian practice of cycling, as it discusses innovative aspects of daily mobility in Africa in general and in Cameroon in particular, where, in most cases, the bicycle is simply considered as an object of entertainment for the private area.
---